FAQ
Frequently asked questions
You're not the only one who has questions. Most people have very similar questions. You can find the most important answers to treatment with the Navilas® retina laser here. Talk to us if you have any further questions.
Is Navilas treatment better than other laser treatments?
The Navilas® laser system is based on the same physical principle as other lasers, but the treatment itself is carried out differently. With the Navilas® system, your doctor is able – for the first time – to plan treatment entirely digitally and with extreme precision, and position the laser with the assistance of the computer. Scientific studies have shown that this computer assistance can help to achieve better results, for example in patients with diabetic macular edema. Precise application leads to a higher sealing rate of defective vessels1. Another study has shown that fewer subsequent treatments are required with Navilas® than with conventional retinal lasers3-5. Faster and better development of vision has also already been seen in one study3.5.
Is navigation standard in laser therapy?
No, navigation is only integrated into Navilas® and is not standard for all retina lasers.
Is Navilas® treatment painful?
The Navilas® laser system is less painful than conventional laser systems.
One study compared how patients' sensation of pain differed between the Navilas® laser system and conventional lasers, and the results showed that Navilas® patients found treatment to be significantly more pleasant than treatment with conventional lasers2.6. This was primarily due to the fact that a treatment contact lens was not always necessary, the fact that glare-free light is used and the short laser pulses. However, the images taken with Navilas® do use a bright, white light, which can be glaring. The laser itself dazzles the eye, meaning that vision may be impaired for a few hours after the treatment session. At some settings, the laser point can cause a"pricking sensation".
Can Navilas® laser treatment improve my sight again?
Primarily, laser treatment can help to stabilize vision at its current level. Some studies have shown that Navilas® can display faster and more significant treatment success than conventional lasers4.
What exactly does Navilas® treatment involve?
First of all, the pupil is enlarged using eye drops. A photo is then made of the retina using the Navilas® Laser System and all examination images are imported. Your doctor now plans the precise treatment points based on these images. You can relax for a bit while they are doing so. You will then put your head back on the support and the doctor will ask you to look straight forward as calmly as possible. The Navilas® Laser System now positions the laser on the areas that have been preplanned. Your doctor will check the position precisely and trigger the laser using a foot pedal.
For some treatments, it is necessary to use a treatment contact lens on the eye. For this purpose, the surface of the eye is numbed with eye drops and the lens is placed directly onto the eye.
Can the Navilas® laser also be used for me?
Only the doctor treating you will be able to decide whether a retina laser would work for you. If a retina laser can be used, your doctor will recommend a certain laser therapy based on your disease and the stage it has reached.
Where can I find a doctor with a Navilas® laser?
Please send us a short message via the contact form with your details. We will then give you information about a doctor in your area.
Do I have to pay anything for Navilas® treatment?
It depends on the country you live in and your health insurance. Please ask your doctor whether the additional work required through digital planning and precise performance of the treatment involves additional costs.
Are there other laser systems that use navigation and eye tracking?
No, the Navilas® Laser System is the only retina laser that works with navigation, eye tracking and digital planning.
How long has this technology been around?
The Navilas® laser has been on the market since around 2010.
Where is the Navilas® laser system manufactured?
The Navilas® Laser System is produced in Germany, just south of Berlin.
Clinical reference studies
"For me, treatment with Navilas was significantly more comfortable than treatment with other systems. I did not feel any pain."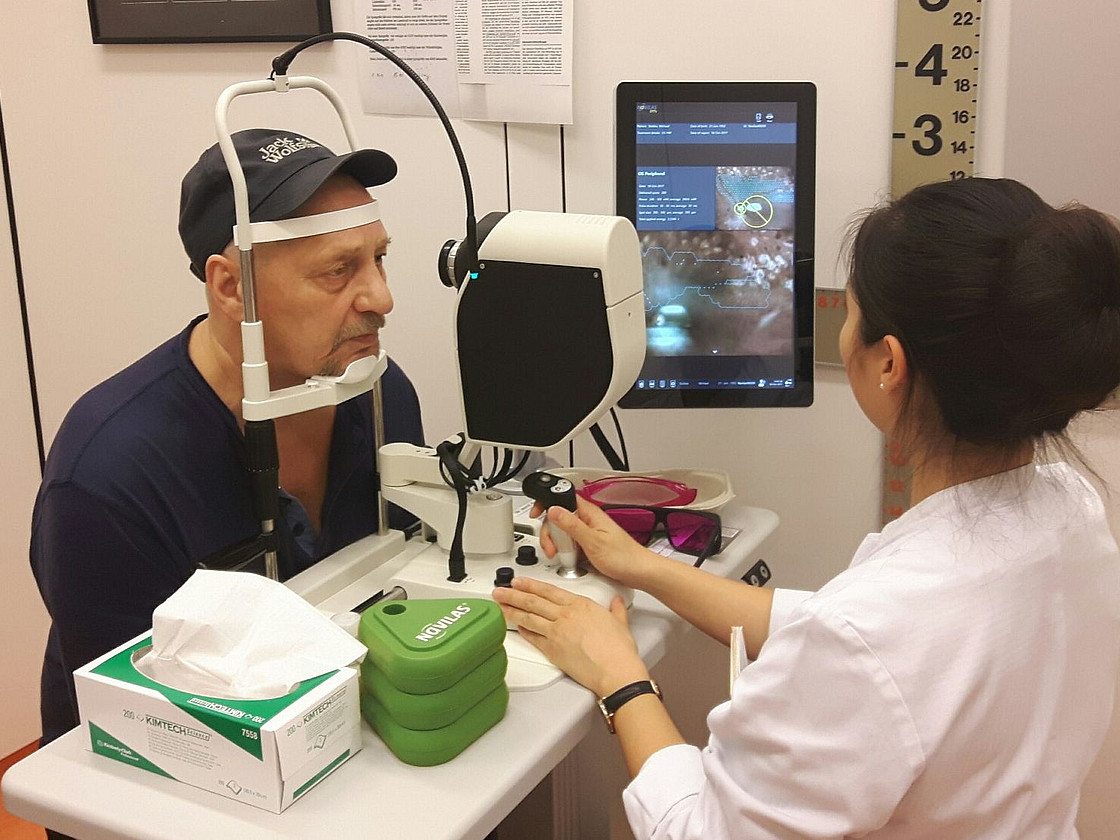 Experiences of a patient from Houston, Texas
Modern laser treatment for the retina