Fast and complete PRP treatment
Navigated non-contact PRP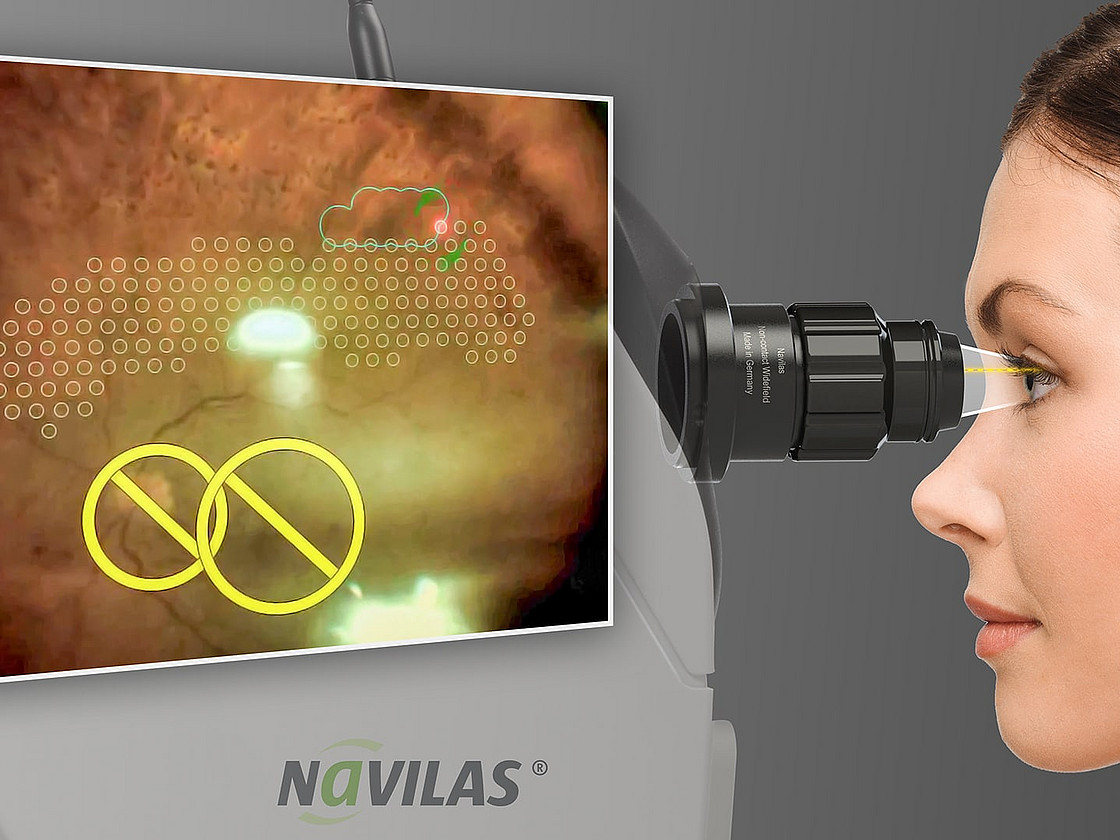 Navigated non-contact PRP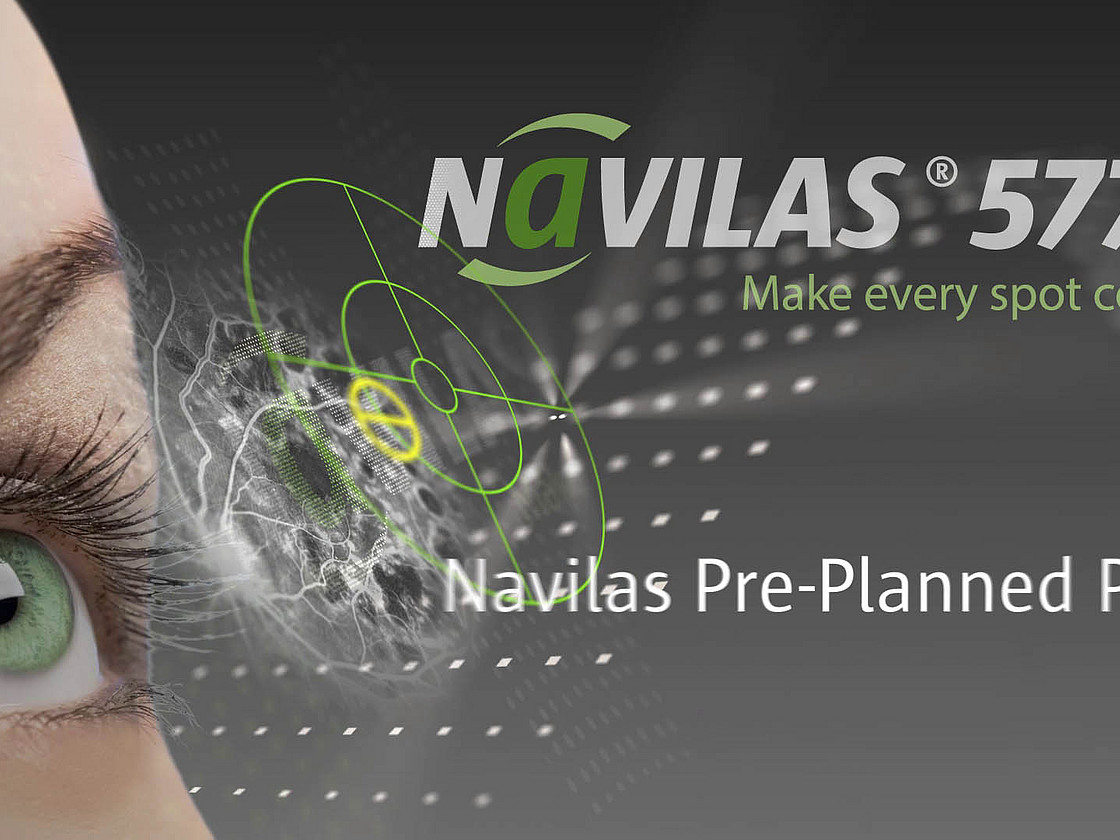 Pre-planned PRP
Ultra-Wide-Field PRP
Navilas® simplifies and accelerates peripheral laser coagulation with flexible and automated pattern positioning via touchscreen and joystick.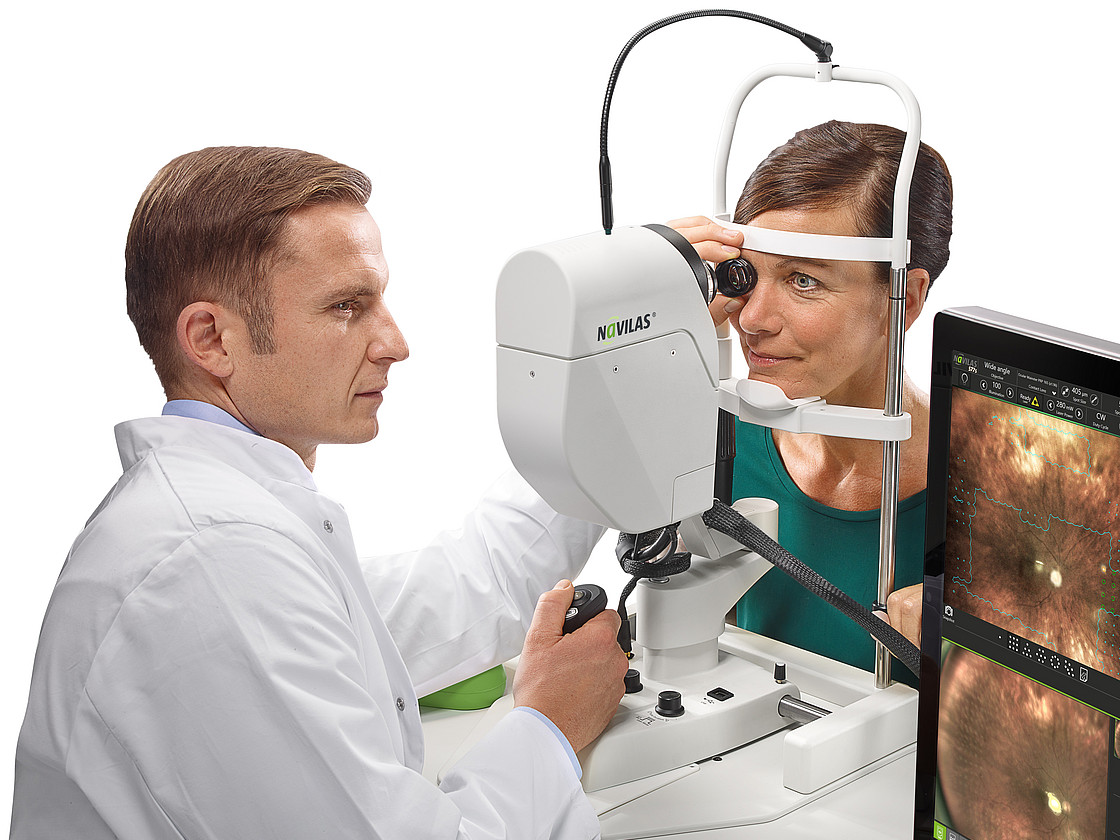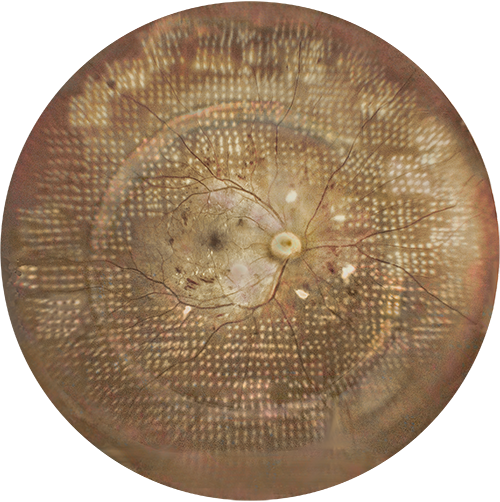 Optimal overview
The Navilas® PRP optics provide a large field of view for rapid targeting of treatment locations in both PRP and laser retinopexy treatments.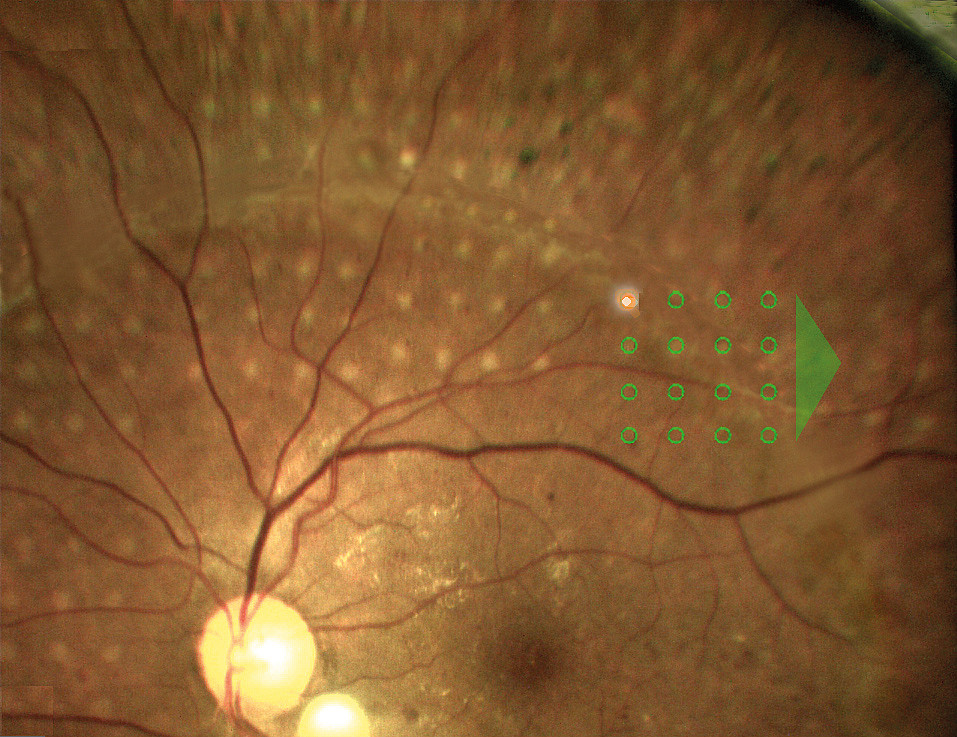 Fast pattern placement
Patterns of up to 25 spots can be placed via touchscreen or joystick and rapidly delivered. Navilas® stabilizes the aiming beam and positions the pattern automatically on the next location.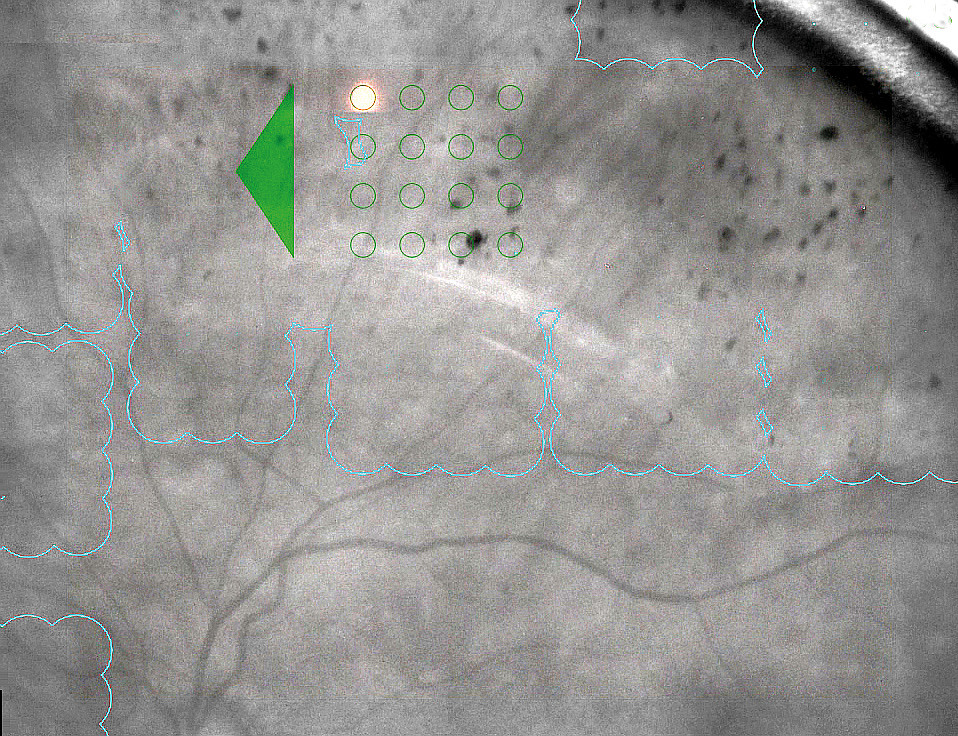 Designed for patient comfort
To reduce glare and increase patient comfort, the infrared illumination with digital documentation function can be activated at any time.
Non-contact PRP treatment
A new widefield objective brings non-contact panretinal photocoagulation with access to the far periphery to the Navilas® 577s Laser System. The solution was developed in close collaboration with Dr. A. Pedinielli and Dr. F. Amoroso from the team around Prof. Souied at CHI de Créteil in France.
Regional availability may vary.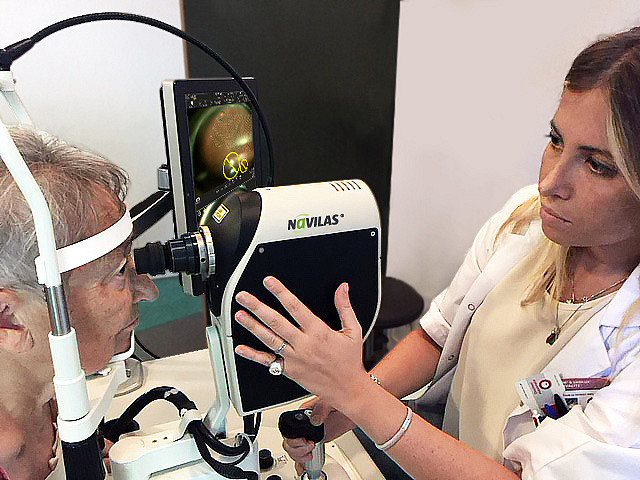 Dr. F. Amoroso from CHI de Créteil in France demonstrating non-contact PRP treatment.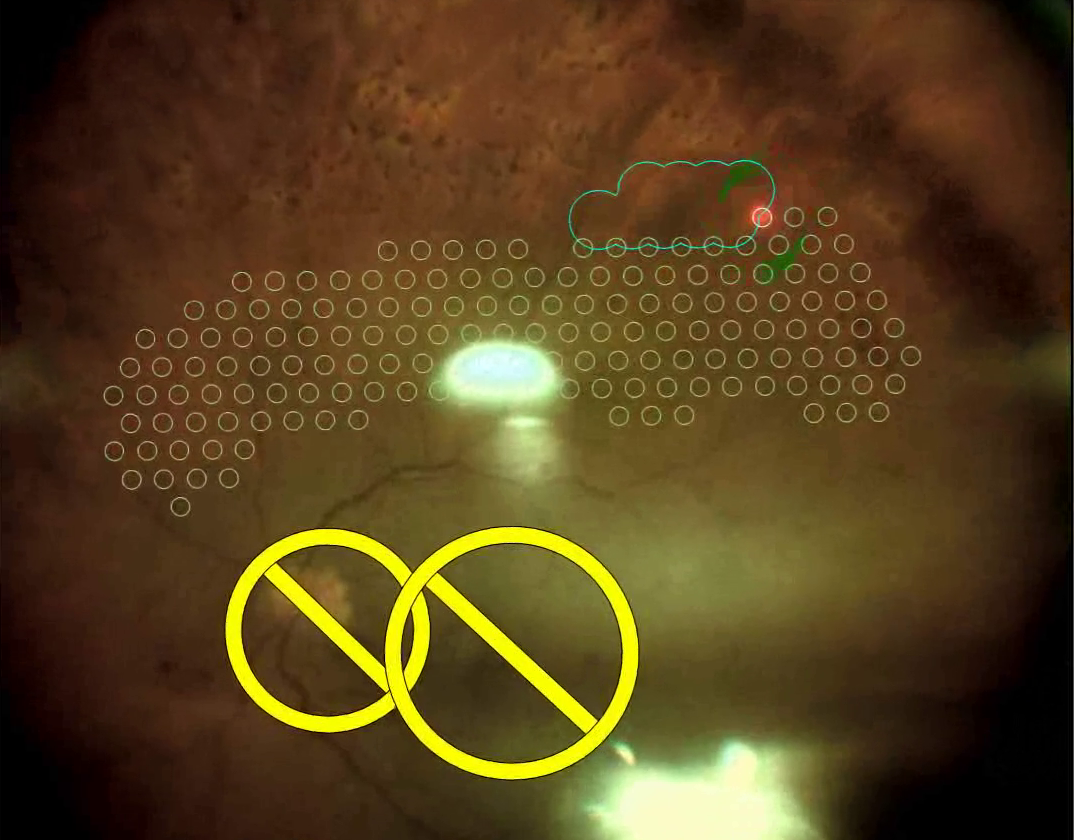 Non-contact panretinal photocoagulation with Navilas® 577s
"We are looking forward to seeing more clinical data from the non-contact widefield objective in practice. We really believe that this could be an important step towards the future of PRP as an almost completely harmless procedure for the patient."
"The field of view of the non-contact widefield objective is really amazing. I had a perfect view of a retinal tear in the far periphery."
"I am very impressed with the new Navilas 577s PRP. To me as the physician it feels ergonomic and straightforward - the system literally lets me paint the peripheral retina with uniform spots in a very short amount of time. It was very well tolerated by the patients, with only topical anesthesia. Navilas now has an industry leading PRP tool to complement its incomparable focal laser capability."
Non-contact widefield objective
Non-contact widefield objectivebrochure, PDF, 597 kB
Interested?
Contact OD-OS or choose a distributor in your region.
Get in touch