Explore treatment videos and specific clinical cases
Treatments and Cases
Focal OCT-guided treatment
Intuitive Microsecond Pulsing Treatment - Software 3.4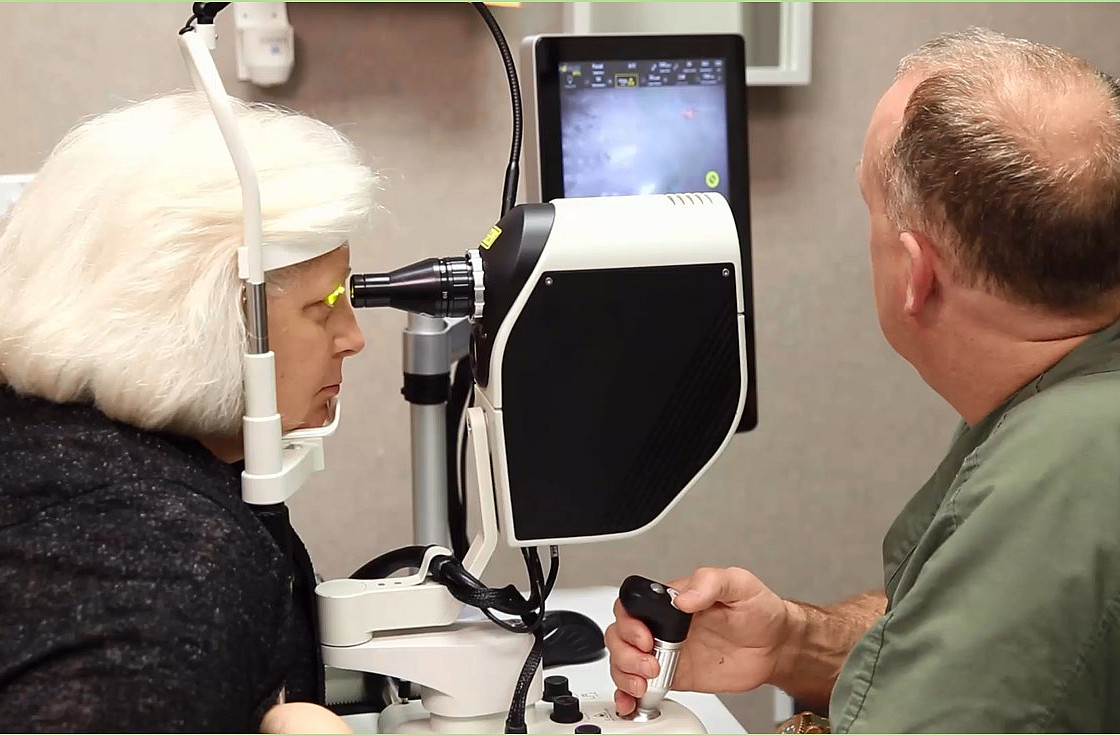 Contact-free treatment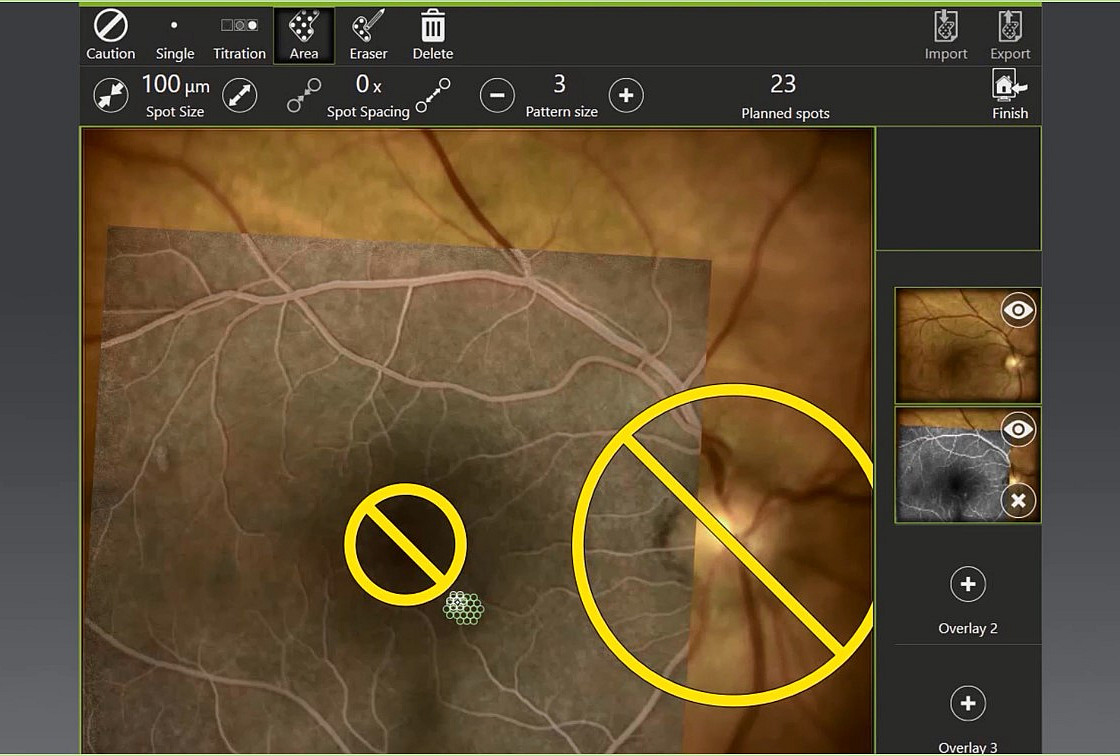 Microsecond pulsing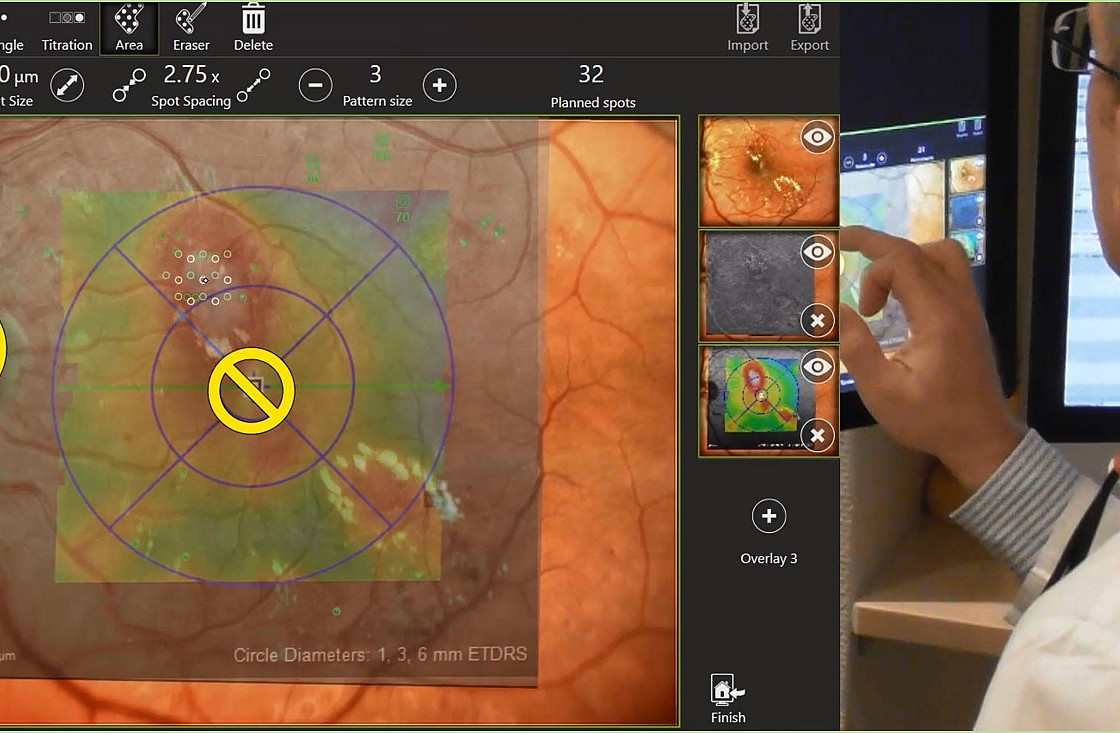 Focal OCT-guided treatment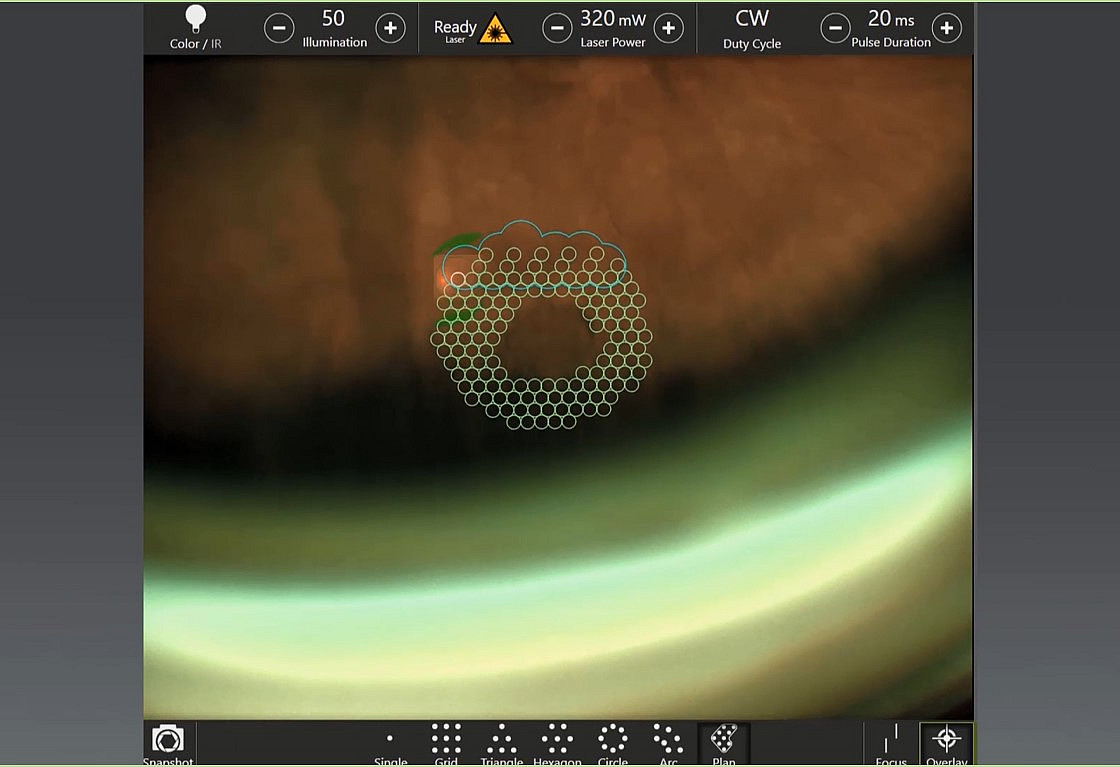 Retinopexy treatment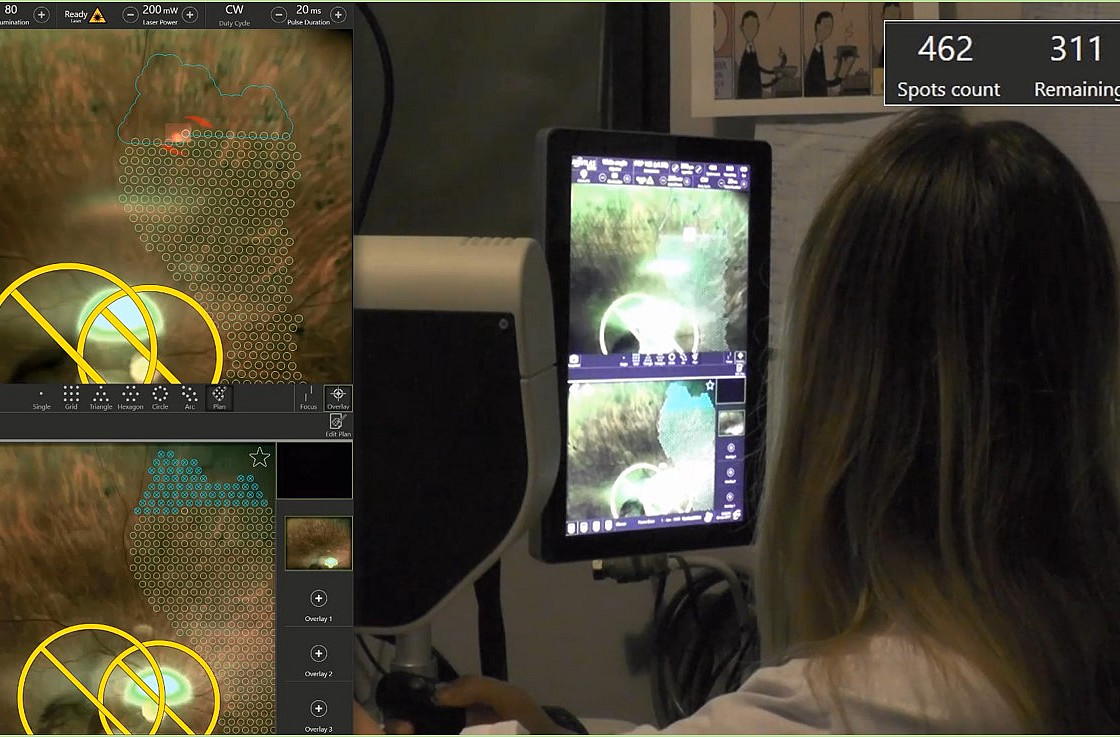 Speed PRP treatment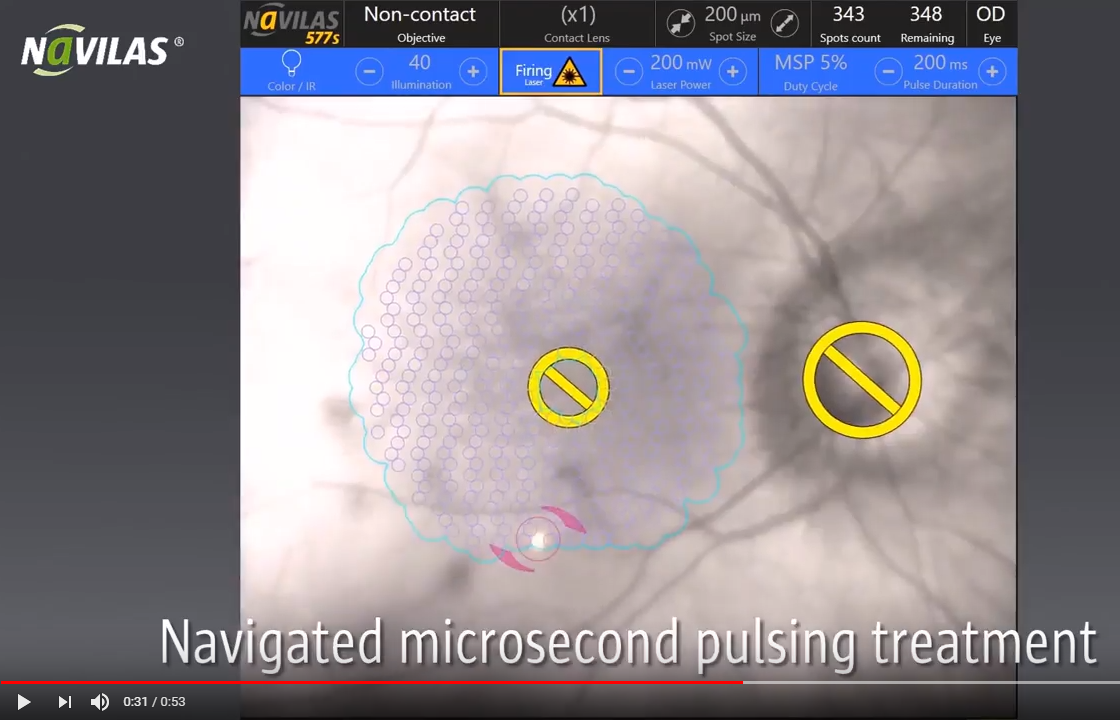 Intuitive Microsecond Pulsing Treatment - Software 3.4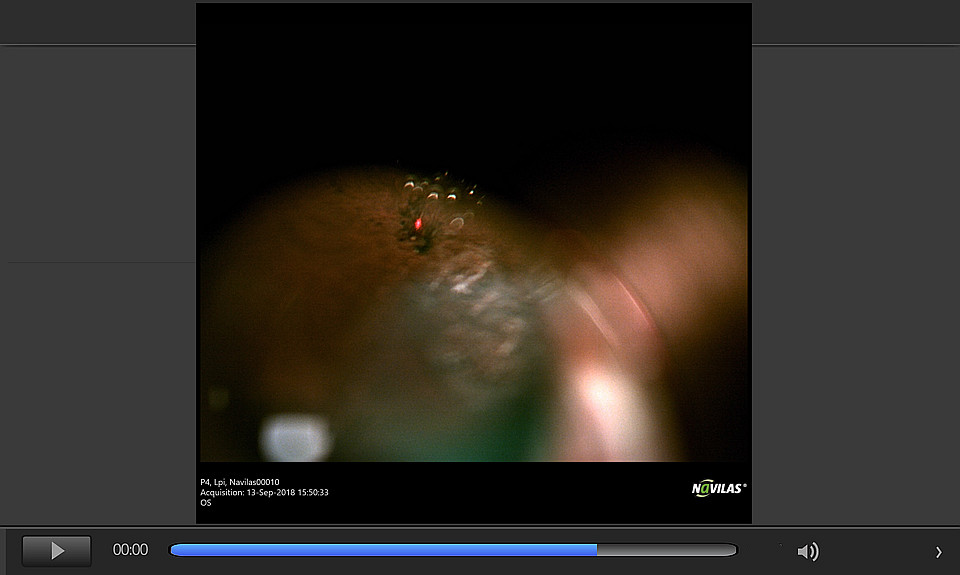 Iridotomy treatment
Get treatments and cases right in your inbox
subscribe
Treating a Retinal Tear in the Far Periphery without LIO
A female patient presented with several retinal tears due to lattice degeneration in both eyes (left eye treated before on LIO, right eye schedule for a second visit). Due to significant pain during the treatment of the left eye the patient asked for alternatives to LIO. Courtesy of Dr. Neesurg Mehta, NYEE, New York ,US
All lesions could be visualized with Navilas. The treatment plan had been laid out before the treatment was successfully conducted.
Courtesy of Dr. Neesurg Mehta, NYEE, New York ,US
All lesions could be visualized with Navilas. The treatment plan had been laid out before the treatment was successfully conducted.
Courtesy of Dr. Neesurg Mehta, NYEE, New York ,US
Despite very far position of retinal tears, lesions could easily be encircled with spots. No switch to LIO was necessary. The patient was compliant during all the procedure and clearly commented on much higher tolerability as compared to the LIO. The patient stated that she is clearly preferring the treatment on Navilas as compared to the LIO. Courtesy of Dr. Neesurg Mehta, NYEE, New York ,US
"Although we did not feel that the Navilas could provide adequate treatment for laser retinopexy, due to the patient's significant discomfort while using the LIO, we decided to use the Navilas. After the treatment, everyone was surprised as to how quickly it was performed and how comfortable the patient was during the procedure. We now understand why Navilas does not provide an LIO adapter."
µs Treatment in Branch Vein Occlusion
Baseline
A male middle-aged patient presented with severe BRVO. Little to no improvement was achieved despite several anti-VEGF injections. A single µs treatment was attempted to reduce injection burden
Image Courtesy: Dr. Wayne Solley, Texas Retina, Arlington, TX
Navilas Treatment
The treatment plan was outlined as confluent grid covering thickened area (100µm, 100ms). After titration in continuous wave mode (endpoint barely visible burn) and switch to 10% Duty Cycle with the same power as in titration.
Image Courtesy: Dr. Wayne Solley, Texas Retina, Arlington, TX
Outcome
During the 3 month follow up the patient returned with significant reduction of edema and an improved best corrected visual acuity to 20/52-1
Image Courtesy: Dr. Wayne Solley, Texas Retina, Arlington, TX
µs Treatment in Central Serous Chorioretinopathy
Baseline
46 year old male presented with decreased vision (20/25) and thickened foveal area due to non-resolving CSCR.
Image Courtesy of Dr. Jay Chhablani, LV Prasad Eye Institute.
Navilas Treatment
Treatment was performed with a confluent 3x3 grid. Parameters were adjusted to 5%DC, 100µm & 100ms. Titration was done in microsecond mode and power turned down to 30%. Image Courtesy: Dr. Jay Chhablani, LV Prasad Eye Institute.
Outcome
On the 4 month follow patient presented with completly resolved subretinal fluid and improved vision from 20/25 to 20/20.
Image Courtesy: Dr. Jay Chhablani, LV Prasad Eye Institute.
Branch Retinal Vein Occlusion (BRVO)
Baseline
Patient 60 years, male presented with decreased vision. Color fundus photographs demonstrate extensive retinal hemorrhages and cotton-wool spot formation.Vein obstruction is localized at the arterial venous crossing.
Diagnosis
Medical evaluation revealed a short term history of hypertension. Moderate macular edema is also present and documented on central sub-field and superior aspect OCT.
Navilas Treatment
A series of individual focal spots and grid patterns were planned on the corresponding FA. A total of 490 laser spots were applied (100µm, average of 97mW, 100ms).
Outcome
Six weeks post-operative exam reveals a significantly flattened macula per OCT compared to baseline (upper left). VA improved to 20/20. Photos courtesy of Dr. Ober, Retinal Consultants of Michigan.
Idiopathic Perifoveal Teleangiectasia
Baseline
Patient 56 years, male presented with a vision of 20/32. Clinical ophthalmoscopy revealed a blunt foveal reflex, a small lesion in the macula. Medical evaluation was negative for diabetes or other causes of macular edema.
Diagnosis
Fluorescein angiography (FA) demonstrated a macular lesion with a spot of hyperfluorescence adjacent to it.
Navilas Treatment
Using a Navilas FA image the treatment was planned to specifically target teleangiectasia and the adjacent area. Navigated treatment was performed using 120µm, 100ms, 100mW.
Outcome
Post-treatment representation showing the reduction of the teleangiectasia over the period of 1 (middle) and 3 (bottom) months compared to intial (top).
Photos courtesy of William R. Freeman, MD;University San Diego La Jolla.
Diabetic Macular Edema (DME)
Baseline
This 65-year-old Asian male with type II diabetes presented with decreased visual acuity of 20/60 in his left eye and 20/80 in his right eye associated with macular edema. Photos courtesy of William R. Freeman, MD; UCSD
Diagnosis (1)
Ocular exam revealed pre-proliferative diabetic retinopathy bilaterally with clinically significant macular edema, intraretinal hemorrhages and cotton-wool spots in both eyes.
Diagnosis (2)
Both eyes on Spectral OCT showed significant retinal fluid, the left eye demonstrating more.
Navilas Treatment
Bilateral image-stabilized treatments were planned directly on Navilas FA: Subthreshold treatment of perifoveal disease within 500 microns from the foveal center and threshold treatment of all extrafoveal microaneurysms.
Outcome
The perifoveal swelling in the left eye disappeared. SD-OCT after Navilas showed resolution of macular edema as compared to pre-operative OCT. 3 months after treatment the VA improved to 20/20 OU and the patient was symptom-free.
Retinal Tear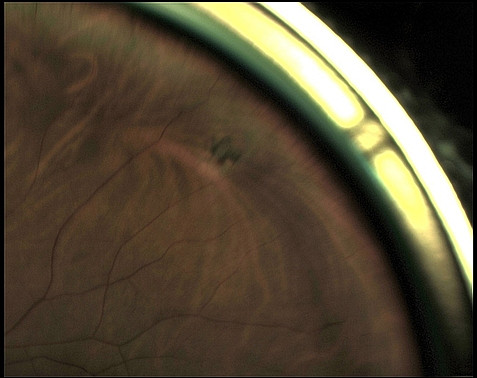 Patient (46 years) presented with a retinal tear at 1' clock position with traction. Patient was scheduled for immediate laser coagulation.
Treatment was performed using navigated pattern mode. 108 spots were applied with a mean power of 148mw; 30ms pulse duration and 95µm spot size was applied. The procedure was fast and comfortable for the patient.
Treatment control 3 days post treatment was performed using Optos Wide field imaging system and revealed full bordering of retinal tear. Spots around tear are well visible.