Scientific papers on and with navigated retina laser technology
Publications
Faster and more comfortable panretinal photocoagualation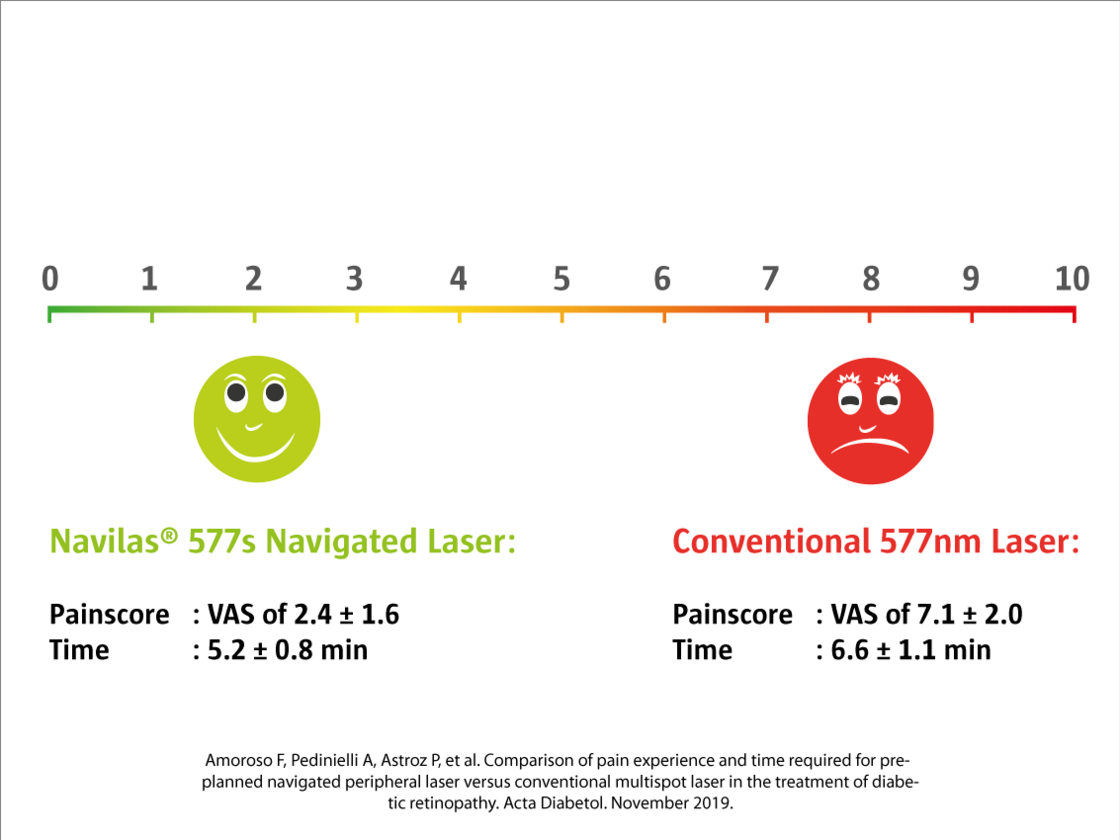 Amoroso et al: "The PRP sessions using the Navilas laser were significantly faster and less painful than with a conventional multispot laser in our series." Pubmed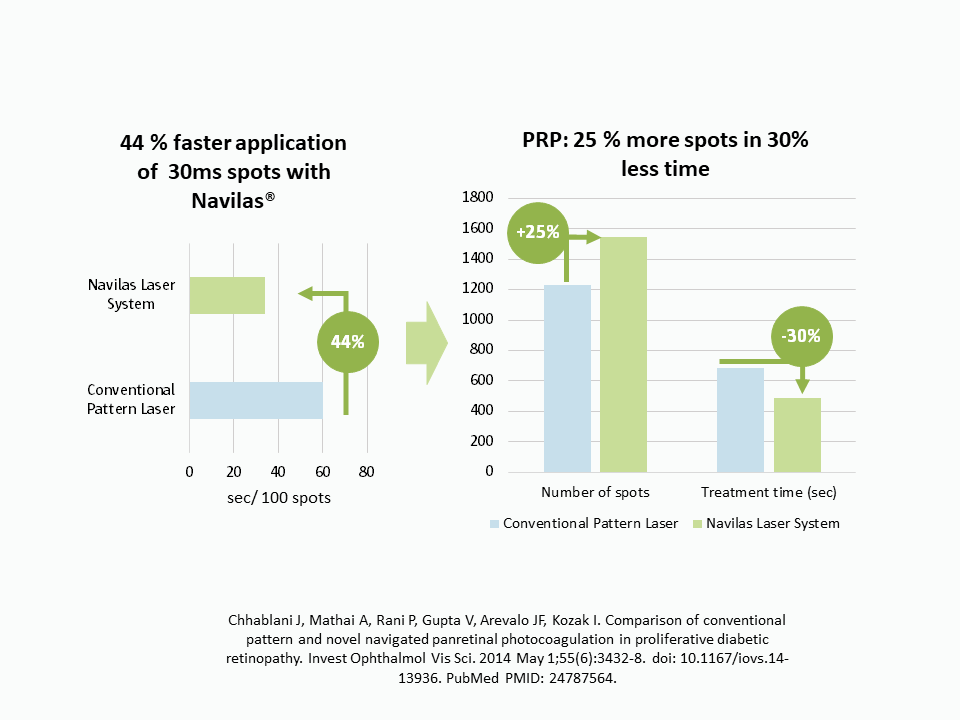 Chhablani et al: "Average treatment duration and pain experience was less with navigated laser compared with pattern laser (P ≤ 0.05)." PubMed
Comparison PDT vs navigated MSP laser
Navigated laser "seems to be superior over PDT in improving visual and anatomical outcomes at 6 months and can be considered as a cheap alternative to PDT in treatment of CSCR".
The impact of reduced injection burden on practice revenues
This study concludes that due to patients' higher therapy adherence, physicians using navigated laser therapy with anti-VEGF generate similar or higher revenues compared to anti-VEGF monotherapy in all analyzed countries.
Navilas® eCaseBook
- AAO Edition

eCaseBook Subthreshold Laser

Tracking Results from Subthreshold Studies

Get publication news right in your inbox
subscribe
Publications by Topic


Benefits of navigation for peripheral application
Safety and efficacy of the use of navigated retinal laser as a method of laser retinopexy in the treatment of symptomatic retinal tears. Somoskeoy, T., & Shah, P. (2020). Eye, 1-5. PubMed PMID: 32587386
Retinal Vascular Oxygen Saturation in Response to a Less Extensive Laser Treatment in Proliferative Diabetic Retinopathy. Vergmann, Anna Stage, Thomas Lee Torp, Ryo Kawasaki, Danjal Hofgaard Hestoy, Tien Yin Wong, Tunde Peto, und Jakob Grauslund. Acta Ophthalmologica n/a, Nr. n/a (23. Dezember 2020). PubMed PMID: 33354935
Efficacy and Side Effects of Individualized Panretinal Photocoagulation. Vergmann AS, Nguyen TT, Lee Torp T, et al. Ophthalmology Retina. 2020;4(6):642-644. doi:10.1016/j.oret.2020.02.006
PubMed PMID 32278741
[Preventive laser treatment of tractional symptomatic retinal flap tears: long-term outcomes]. Shaimova, V. A., T. B. Shaimov, E. V. Boiko, R. B. Shaimov, A. S. Zarezina, T. G. Kravchenko, A. Yu Galin, u. a.". Vestnik Oftalmologii 136, Nr. 3 (2020): 32–38. PubMed PMID: 32504474
Comparison of Navigated Laser and Conventional Single-Spot Laser System for Induced Pain during Panretinal Photocoagulation. Polat, Onur, Sibel Inan, Zeki Baysal, Safiye Yigit, und Umit Ubeyt Inan. Lasers in Medical Science 35, Nr. 3 (April 2020): 687–93. PubMed PMID: 31741148
Comparison of pain experience and time required for pre-planned navigated peripheral laser versus conventional multispot laser in the treatment of diabetic retinopathy. Amoroso, F., Pedinielli, A., Astroz, P., Semoun, O., Capuano, V., Miere, A., & Souied, E. H. (2019). Acta diabetologica, 1-7. PubMed PMID: 31749047
Navigated Retina Laser Therapy as a Novel Method for Laser Retinopexy of Retinal Tears. Gologorsky, Daniel; Rosen, Richard B.; Giovinazzo, Jerome; Jansen, Michael; Landa, Gennady, Lee, Jessica. Ophthalmic Surgery, Lasers & Imaging Retina. April 2018. 49:e206-e209. PubMed PMID: 30457657
Navigated Pattern Laser System versus Single-Spot Laser System for Postoperative 360-Degree Laser Retinopexy. Kulikov, Alexei N., Dmitrii S. Maltsev, and Ernest V. Boiko. Journal of Ophthalmology (2016). PubMed PMID: 28070417
Comparison of Pain Scores between Patients Undergoing Panretinal Photocoagulation Using Navigated or Pattern Scan Laser Systems. Inan, Umit Ubeyt, Onur Polat, Sibel Inan, Safiye Yigit, and Zeki Baysal. Arquivos Brasileiros de Oftalmologia 79, no. 1 (2016). PubMed PMID: 26840160
Targeted Photocoagulation of Peripheral Ischemia to Treat Rebound Edema. Singer, Michael, Krishna Surapaneni, Srinivas Sadda, and Colin Tan. Clinical Ophthalmology, February 2015, 337. PubMed PMID: 25709396
Panretinal Navigated Laser Photocoagulation for PDR. Lin, K., and S. Lu. Retina Today, 2014, 65-70. link
Comparison of Conventional Pattern and Novel Navigated Panretinal Photocoagulation in Proliferative Diabetic Retinopathy. Chhablani, Jay, Annie Mathai, Padmaja Rani, Vishali Gupta, J. Fernando Arevalo, and Igor Kozak. Investigative Opthalmology & Visual Science 55, no. 6 (June 4, 2014): 3432. PubMed PMID: 24787564
Benefits of navigation for threshold focal application
OCTA-Guided Navigated Laser Therapy for Advanced Macula Neovascularization Secondary to Age Related Macular Degeneration. Amoroso, Francesca, Eric H Souied, Salomon Yves Cohen, Alexandre Pedinielli, Polina Astroz, Rocio Blanco Garavito, Vittorio Capuano, Giuseppe Querques, und Alexandra Miere. European Journal of Ophthalmology, 22. Dezember 2020, 1120672120983191.
PubMed PMID: 3335340
Efficacy of navigated focal laser photocoagulation in diabetic macular edema planned with en face optical coherence tomography versus fluorescein angiography. Maltsev, D. S., Kulikov, A. N., Burnasheva, M. A., Kazak, A. A., & Chhablani, J. (2020). International Ophthalmology, 1-9. PubMed PMID: 32285237
Information Technology for Decision-Making Support for Personalized Parameter Selection in Retinal Laser Treatment and Photocoagulation Outcome Prognostication. Ilyasova, N. Yu., A. S. Shirokanev, N. S. Demin, R. A. Paringer, und E. A. Zamytskiy. Optical Memory and Neural Networks 29, Nr. 4 (1. Oktober 2020): 358–67. https://doi.org/10.3103/S1060992X20040098.
Management of Coats Disease Microaneurysms With Fundus Fluorescein Angiography-Guided Navigated Laser. Brown, D., Kozak, I., Lampen, S. I., & Chhablani, J. (2019). Journal of VitreoRetinal Diseases, 3(1), 36-41. pdf on ResearchGate
Clinical application of fluorescein angiography-free navigated focal laser photocoagulation in central serous chorioretinopathy. Maltsev, D. S., Kulikov, A. N., & Chhablani, J. (2019). Ophthalmic Surgery, Lasers and Imaging Retina, 50(4), e118-e124. PubMed PMID: 30998255
Indocyanine green angiography-guided focal navigated laser photocoagulation for diabetic macular edema. Nozaki, M., Kato, A., Yasukawa, T., Suzuki, K., Yoshida, M., & Ogura, Y. (2019). Japanese journal of ophthalmology, 1-12. PubMed PMID: 30806869
Direct navigated laser photocoagulation as primary treatment for retinal arterial macroaneurysms. Maltsev, Dmitrii S.; Kulikov, Alexei N.; Uplanchiwar, Bhushan; Lima, Luiz H.; Chhablani, Jay.. Int J Retin Vitr (2018) 4:28 PubMed PMID: 30151240
Navigated laser photocoagulation in patients with non-resolving and chronic central serous chorioretinopathy. Müller, B., Tatsios, J., Klonner, J., Pilger, D., & Joussen, A. M. (2018). Graefe's Archive for Clinical and Experimental Ophthalmology, 1-8. PubMed PMID: 29876733
Evaluation of Navigated Laser Photocoagulation (Navilas 577+) for the Treatment of Refractory Diabetic Macular Edema. Kato, Fusae, Miho Nozaki, Aki Kato, Norio Hasegawa, Hiroshi Morita, Munenori Yoshida, and Yuichiro Ogura. 2018. Journal of Ophthalmology 2018: 1–7. PubMed PMID: 29854426
Tackling challenges retina cases with laser therapy. Rajan Gupta, Jay Chhablani (2018). Retina Today 2018 Vol. 13, No 8 (page 24).
Treatment of macroaneurisms in macular oedema: Navigated laser leads the next generation of photocoagulation therapy. J. C. Ramel. Ophthalmology Times Dec. 2018 Vol 14. No 10. page 27
Time Required for Navigated Macular Laser Photocoagulation Treatment with the Navilas®. Ober, Michael D., Marcus Kernt, Marco A. Cortes, and Igor Kozak. Graefe's Archive for Clinical and Experimental Ophthalmology 251, no. 4 (April 2013): 1049–53. PubMed PMID: 22868445
Navigated Macular Laser Decreases Retreatment Rate for Diabetic Macular Edema: A Comparison with Conventional Macular Laser. Kernt, Marcus, A Kampik, Neubauer, Langer, Wolf, Kozak, Seidensticker, Ulbig, and Freeman. "Clinical Ophthalmology, January 2013, 121. PubMed PMID: 23345966
Pain and Accuracy of Focal Laser Treatment for Diabetic Macular Edema Using a Retinal Navigated Laser (Navilas). Kernt, Marcus, Cheuteu, Cserhati, Seidensticker, Liegl, Lang, Christos Haritoglou, A Kampik, Ulbig, and Neubauer. Clinical Ophthalmology, February 2012, 289. PubMed PMID: 22393280
Clinical Evaluation and Treatment Accuracy in Diabetic Macular Edema Using Navigated Laser Photocoagulator NAVILAS. Kozak, Igor, Stephen F. Oster, Marco A. Cortes, Dennis Dowell, Kathrin Hartmann, Jae Suk Kim, and William R. Freeman. Ophthalmology 118, no. 6 (June 2011): 1119–24. PubMed PMID: 21269701
Combination of Navilas® with Anti-VEGF
Long-term outcomes of treat-and-extend ranibizumab with and without navigated laser for diabetic macular oedema: TREX-DME 3-year results. Payne, J. F., Wykoff, C. C., Clark, W. L., Bruce, B. B., Boyer, D. S., & Brown, D. M. (2020). British Journal of Ophthalmology. PubMed PMID: 32303499
Read blog post
Aflibercept and navigated versus conventional laser in diabetic macular oedema: a 12‐month randomized clinical trial. Blindbæk, S. L., Peto, T., & Grauslund, J. (2020). Acta Ophthalmologica, 98(4), 347-352. PubMed PMID: 31602811
Retinal arteriolar oxygen saturation predicts the need for intravitreal aflibercept in patients with diabetic macular oedema. Blindbæk SL, Peto T, Grauslund J. BMJ Open Ophthalmology. 2020;5(1):e000382. doi:10.1136/bmjophth-2019-000382 PubMed PMID 32524033
Első tapasztalataink diabeteses maculopathia Navilas® 577s mikropulzuslézer-készülékkel történő kezelésével. Ecsedy, Mónika, Illés Kovács, Róbert Gergely, Katalin Gombos, Judit Meisel, Andrea Kovács, Cecilia Czakó, und Zoltán Zsolt Nagy. Orvosi Hetilap 161, Nr. 49 (6. Dezember 2020): 2078–85. https://doi.org/10.1556/650.2020.31935.
Navigated laser in diabetic macular edema: the impact of reduced injection burden on patients and physicians-who wins and who loses?. Menzler J,Neubauer A,Ziemssen F., Int J Ophthalmol 2019;12(2):342-345,doi:10.18240/ijo.2019.02.24
3-year-data of combined navigated laser photocoagulation (Navilas) and intravitreal ranibizumab compared to ranibizumab monotherapy in DME patients. Herold, T. R., Langer, J., Vounotrypidis, E., Kernt, M., Liegl, R., & Priglinger, S. G. (2018). PloS one, 13(8), e0202483. PubMed PMID: 30138384
From Art to Science in DME Treatment. ANG LI, BA, and RUMNEEK BEDI. "Accessed March 15, 2017. link
Combination of Navigated Macular Laser Photocoagulation and Anti-VEGF Therapy: Precise Treatment for Macular Edema under Dry Retinal Conditions. Boiko, Ernest V., and Dmitrii S. Maltsev. Journal of Ophthalmology 2017 (2017): 1–9. PubMed PMID: 28316837
12-Month Results of the Standardised Combination Therapy for Diabetic Macular Oedema: Intravitreal Bevacizumab and Navigated Retinal Photocoagulation. Barteselli, Giulio, Igor Kozak, Sharif El-Emam, Jay Chhablani, Marco A Cortes, and William R Freeman. British Journal of Ophthalmology 98, no. 8 (August 2014): 1036–41. PubMed PMID: 24723616
Comparative Evaluation of Combined Navigated Laser Photocoagulation and Intravitreal Ranibizumab in the Treatment of Diabetic Macular Edema. Liegl, Raffael, Julian Langer, Florian Seidensticker, Lukas Reznicek, Christos Haritoglou, Michael W. Ulbig, Aljoscha S. Neubauer, Anselm Kampik, and Marcus Kernt. Edited by Demetrios Vavvas. PLoS ONE 9, no. 12 (December 26, 2014). PubMed PMID: 25541960
NAVILAS Laser System Focal Laser Treatment for Diabetic Macular Edema-One Year Results of a Case Series. Jung, Jesse J., Roberto Gallego-Pinazo, Antonio Lleó-Pérez, Jonathan I. Huz, and Irene A. Barbazetto. The Open Ophthalmology Journal 7, no. 1 (2013). PubMed PMID: 24082979

Navilas® in subthreshold applications
Clinical Evaluation of Individualized and Navigated Microsecond Pulsing Laser for Acute Central Serous Chorioretinopathy. Pavel L. Volodin, MD, PhD; Elena V. Ivanova, MD, PhD. Ophthalmic Surgery, Lasers and Imaging Retina. 2020;51(9):512-520. Pubmed PMID: 32955591
The experience of using the Navilas® Laser System for micropulse laser exposure in patients with central serous choriopathy. Pomytkina, NV, IZ Kravchenko, und EL Sorokin. Modern technologies in ophtalmology, Nr. 1 (2020).
Micropulse laser therapy a safe treatment for retinal disorders. Di Carlo, E., Simni, C., Ophthalmology Times. July 2020. Read article
The Capabilities of Navigation in Microsecond Pulsing Laser Therapy. Prasad, P. Retinal Physician. June 2020. Read article
OD-OS Scores with Navilas® Microsecond Laser Platform. Results from subthreshold approaches in various posterior segment applications. by Hazlin Hassan. PIE Magazine. Sep/Oct 2019 read article
Comparison of Photodynamic Therapy and Navigated Microsecond Laser for Chronic Central Serous Chorioretinopathy. Ntomoka, Cyprian Gabriel, Bindu Rajesh, Gachago Muchai Muriithi, Abhilash Goud, and Jay Chhablani. Eye, February 12, 2018. PubMed PMID: 29429986
Subthreshold microsecond laser for proliferative diabetic retinopathy: a randomized pilot study. Jhingan, Mahima; Goud, Abhilash; Peguda, Hari Kumar; Khodani, Mitali, Luttrull Jeffrey K; Chhablani, Jay. 2018. Clinical Ophthalmology 2018:12 141-145. PubMed PMID: 29391774
Retinal Physician - Initial Experiences With Yellow Navigated Laser and Microsecond Pulses in Patients With DME. Kernt, Marcus "Retinal Physician. Accessed November 22, 2017. link
Microsecond Yellow Laser for Subfoveal Leaks in Central Serous Chorioretinopathy. Ambiya, Vikas, Abhilash Goud, Annie Mathai, Padmaja Kumari Rani, and Jay Chhablani. Clinical Ophthalmology (Auckland, N.Z.) 10 (August 11, 2016): 1513. PubMed PMID: 27570446

Further publications with and about Navilas®

Navigation technology/eye-tracking in ophthalmology: principles, applications and benefits—a narrative review. Kozak, I., Rahn, U. AES Annals of Eye Science. Vol 6 (March 2021)https://aes.amegroups.com/article/view/5776
Topography-guided identification of leakage point in central serous chorioretinopathy: a base for fluorescein angiography-free focal laser photocoagulation. Maltsev, Dmitrii S; Kulikov, Alexei N; Chhablani, Jay.. Br J, Ophthalmol 2018; 0:1-8. PubMed PMID: 29301768
Evaluation of YAG-laser vitreolysis effectiveness based on quantitative characterization of vitreous floaters. Shaimova VA, Shaimov TB, Shaimov RB, Galin AY, Goloshchapova ZA, Ryzhkov PK, Fomin AV.. Vestn Oftalmol. 2018;134(1):56-62. PubMed PMID: 29543200
Teleophthalmology Image-Based Navigated Retinal Laser Therapy for Diabetic Macular Edema: A Concept of Retinal Telephotocoagulation. Kozak, Igor, John F. Payne, Patrik Schatz, Eman Al-Kahtani, and Moritz Winkler. "Graefe's Archive for Clinical and Experimental Ophthalmology, April 26, 2017.
PubMed PMID: 28447201
Shortening the Laser Photocoagulation Learning Curve with a Navigated System. Fassbender, Bernd. Retinal Physician. April 2017. link
Retro-Mode Scanning Laser Ophthalmoscopy Planning for Navigated Macular Laser Photocoagulation in Macular Edema. Boiko, Ernest V., and Dmitrii S. Maltsev. Journal of Ophthalmology 2016 (2016): 3726353. PubMed PMID: 26989498
Central Serous Chorioretinopathy Treated With Navigated Retinal Laser Photocoagulation: Visual Acuity and Retinal Sensitivity. Mastropasqua, Leonardo, Luca Di Antonio, Lisa Toto, Alessandra Mastropasqua, Angelo Di Iorio, and Paolo Carpineto. "Ophthalmic Surgery, Lasers and Imaging Retina 46, no. 3 (March 1, 2015): 349–54. PubMed PMID: 25856822
Factors Affecting Laser Power in Retinal Navilas Laser Treatment. Hoeh, Alexandra E., Stefanie Pollithy, and Stefan Dithmar. Graefe's Archive for Clinical and Experimental Ophthalmology 253, no. 6 (June 2015): 849–54. PubMed PMID: 25161075
Navigated Laser (Navilas) Therapy For Choroidal Neovascular and Hyperpermeability Pathologies. Alshahrani, Saeed T., and Nicola G. Ghazi. Retinal Cases and Brief Reports 9, no. 2 (2015): 117–120.
PubMed PMID: 25383841
Fluorescein Angiography versus Optical Coherence Tomography-Guided Planning for Macular Laser Photocoagulation in Diabetic Macular Edema. Kozak, Igor, Sharif Y. El-Emam, Lingyun Cheng, Dirk-Uwe Bartsch, Jay Chhablani, William R. Freeman, and J. Fernando Arevalo. "Retina (Philadelphia, Pa.) 34, no. 8 (2014): 1600. PubMed PMID: 24695064
Navigated Focal Laser Photocoagulation for Central Serous Chorioretinopathy. Chhablani, Jay, Padmaja Kumari Rani, Annie Mathai, Subhadra Jalali, and Igor Kozak. "Clinical Ophthalmology, August 2014, 1543. PubMed PMID: 25170248
Navigated Laser Therapy for Diabetic Macular Oedema. Kernt, Marcus, Michael Ulbig, Anselm Kampik, and Aljoscha S. Neubauer. European Ophthalmic Review 7, no. 2 (2013): 127–130. PubMed PMID: 23760425
Characterization of Microaneurysm Closure after Focal Laser Photocoagulation in Diabetic Macular Edema. Lee, Su Na, Jay Chhablani, Candy K. Chan, Haiyan Wang, Giulio Barteselli, Sharif El-Emam, Maria L. Gomez, Igor Kozak, Lingyun Cheng, and William R. Freeman. American Journal of Ophthalmology 155, no. 5 (May 2013): 905–912. PubMed PMID: 23394906
Focal Navigated Laser Photocoagulation in Retinovascular Disease: Clinical Results in Initial Case Series. Kozak, Igor, Jae Suk Kim, Stephen F. Oster, Jay Chhablani, and William R. Freeman. Retina (Philadelphia, Pa.) 32, no. 5 (May 2012): 930–35. PubMed PMID: 21886017